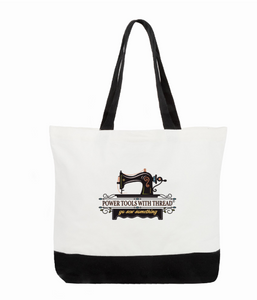 The perfect bag to take to the quilt store!  Show off your style in this sturdy reusable tote that's perfect to carry all your fabric needs.  It has an open main compartment with easy access, made of 100% cotton canvas, and has double carry handles.  The deluxe cotton tote bag is a modern take on the timeless classic that offers a bit more room and has thicker straps. You'll love this bag!
Width: 15" (side to side at widest point).
Depth: 4.7" (exterior front to back of the bag).
Height: 18.5" (bottom of the bag to the highest point of the main compartment).